Addressing Marine Plastics: A Roadmap to a Circular Economy
The UN Environment Programme (UNEP) — Global Environment Facility (GEF) Project "Addressing Marine Plastics: A Systemic Approach" invites you to a virtual launch of the new report "Addressing Marine Plastics: A Roadmap to a Circular Economy"
Wednesday 18th November 2020
09:00 – 10:30 AM EST/ 03:00 – 04:30 PM CET/ 05:00 – 06:30 EAT
Please register to attend the event
This document provides an action-oriented strategy by identifying a core set of priority solutions to be implemented by targeted stakeholders from the whole plastics value chain. The recommendations proposed in the Roadmap aim to reduce the ecological and socioeconomic impacts from marine plastics, while transforming the linear "take–make–dispose" economy into a circular one. This roadmap can be used as a reference by funding agencies, governments and civil society organizations to define their respective action plans, and to scale up interventions on plastic pollution.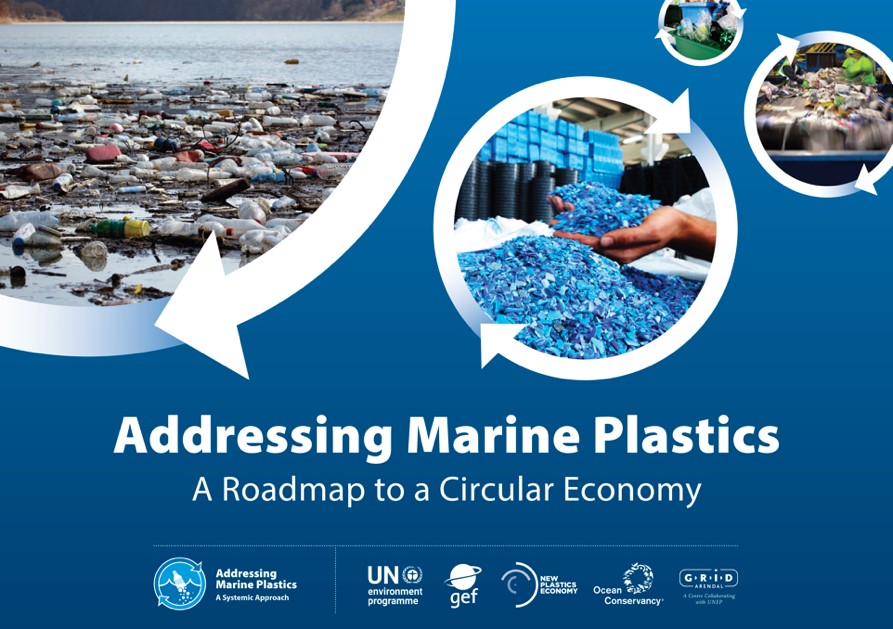 Our expert speakers include:
Isabelle Vanderbeck, UNEP GEF Task Manager
Feng Wang – UNEP Circular Economy on Plastics
Ran Xie – UNEP Circular Economy on Plastics
Sander DeFruyt, Ellen MacArthur Foundation
Chever Voltmer, Ocean Conservancy
Heidi Savelli, UNEP Global Partnership on Marine Litter
Fadilah Ali, Global Partnership on Marine Litter– Caribbean Node
Crispian Lao – Philippine National Solid Waste Commission
Nanette Laure – Seychelles Ministry of Environment, Energy and Climate Change
Olivia Finch, Ellen MacArthur Foundatiion, Q & A Moderator
Liana Talaue McManus, GRID-Arendal, Host
Opening remarks:
Leticia Carvalho, UN Environment Programme Ecosystems Division
Elisa Tonda, UN Environment Programme Economy Division
Leah Karrer, Global Environment Facility
Please register to attend the event.
Following registration, you will receive the details for the event. This event will be recorded and the recording shared.
Please feel free to share this invite with your networks.
Kindly contact Liana McManus should you experience any difficulties registering for the event.